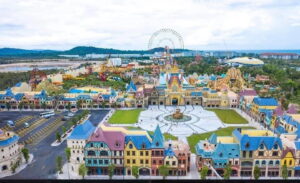 Shop VinWonder Bãi Dài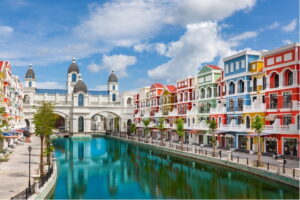 Win Wonder Phú Quốc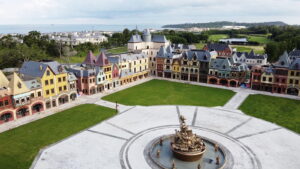 CHÍNH SÁCH BÁN HÀNG
Cam kết hỗ trợ KH mua Shop 2 năm đầu, mỗi năm 5% giá trị Shop (ko VAT)
Khách thuê Shop được miễn tiền thuê 2 năm đầu.
Tiến độ thanh toán 24 tháng chia làm 16 lần thanh toán
Ký cọc 500tr, Ký HDMB: 15% gồm VAT, bank giải ngân khi KH đóng đủ VTC 25% gồm VAT
Hỗ trợ tài chính lên tới 60 tháng: hỗ trợ lãi suất 24 tháng có mốc chặn
Ân hạn nợ gốc thêm 36 tháng sau thời gian CĐT HTLS
Tỷ lệ vay được HTLS tối đa: 70%
Chiết khấu thanh toán sớm 8% trên số tiền và thời gian thanh toán trước hạn
Chiết khấu không vay 10%: CK thẳng vào giá bán trước VAT &KPBT
Phí Môi giới cho thuê Shop: 1% giá trị Shop chưa VAT &KPBT
Tặng KH mua Shop Voucher vào cổng VinWonder PQ & Safari PQ 1 lần/ tháng cho 2 người trong vòng 1 năm đầu từ ngày kích hoạt
DIỆN TÍCH
DT đất min: 37m2
DT đất TB: từ 75m2 đến 129m2
DT đất max: 540m2
DTXD TB: 220m2
Số tầng: 2-3 tầng, tiêu chuẩn bàn giao thô, hoàn thiện mặt ngoài
GIÁ BÁN (gồm VAT tạm tính &KPBT)
Giá min: 6 tỷ đồng
Giá TB: 17 tỷ đồng
Giá max: 36 tỷ đồng
Hotline: Kim Sa
Sales policy and Selling price of the product Shop VinWonder Bai Dai:
SHOP VINWONDER BAI DAI:
-SELLER POLICY:
1.Commitment to support customers to buy Shop for the first 2 years, each year 5% of the Shop value (no VAT)
Shop tenants are exempt from rent for the first 2 years.
2.Security deposit of 500 million, Signing sale and purchase contract: 15% including VAT, bank disburses when the customer fully pays 25% VTC including VAT
3. Financial support up to 60 months: 24 month interest rate support with block mark
4. An additional 36 months of repayment on principal after Investor's Interest Support period
5.The maximum interest rate subsidized loan: 70%
6.Voucher Vinfast 200 million
7. Discount 8% early payment on the amount and time of prepayment
8. Non-loan discount 10%: Discount directly to the pre-sale price VAT & Maintenance Funding
9. Shop Rental Brokerage Fee: 1% of the value of the Shop without VAT & Maintenance Fee
10.Customer will get a gift when buying Shop 1 Voucher to enter VinWonder PQ & Safari PQ 1 time / month for 2 people within the first year from the date of activation
– ACREAGE:
1. AREA of land min: 37m2
2. Average AREA: from 75m2 to 129m2
3. AREA of land max: 540m2
4.AIR CONSTRUCTION AREA: 220m2
5. Number of floors: 2-3 floors, handover standard, finished outside
-SELLER (including provisional VAT & maintenance fee)
1. Average price: 17 billion VND
2.Max price: 36 billion VND
Hotline: Kim Sa 0799 27 27 25.